Reducing Vehicular Pollution and Mitigating Acid Rain Formation
Research into the viability of photocatalytic pavements began in Japan in the early 1970s, and has progressed throughout Europe in more recent decades. In North America, the commercial use of titanium dioxide (TiO2) to transform asphalt and concrete pavements into pollution-reducing and solar-reflective pavements became economically feasible with the introduction of PTI's PlusTi family of smog-eating-road penetrants.
TiO2 creates and vastly accelerates the presence of natural oxidants such as hydroxyl radicals and superoxides when exposed to UV light. The natural process of oxidation by simple chemical reduction decomposes an array of problematic pollutants including vehicular exhaust and tire-wear debris.
PTI's research and development team worked closely with a leading U.S. based university to determine how best to ensure deep penetration of a titanium-dioxide-based formulation. Various carrier liquid component ratios were tested to identify the ideal formulation for optimizing performance, with the goal of sustaining the smog-eating effect as concrete and asphalt pavements inevitably age and wear.
Humidity, temperature, flow rates and application methods are only a handful of the many factors tested and evaluated in order to develop a product family capable of providing a sustainable photocatalytic surface that removes nitrogen oxides (NOx), volatile organic compounds and other pollutants introduced into the atmosphere from vehicles.
The resulting air- and stormwater-purifying surface regenerates itself, contributing to compliance with the Clean Air Act (CAA) and the U.S. EPA's stringent National Ambient Air Quality Standard (NAAQS), while amassing both U.S. Green Building Council (USGBC) LEED and Institute for Sustainable Infrastructure (ISI) Envision credits.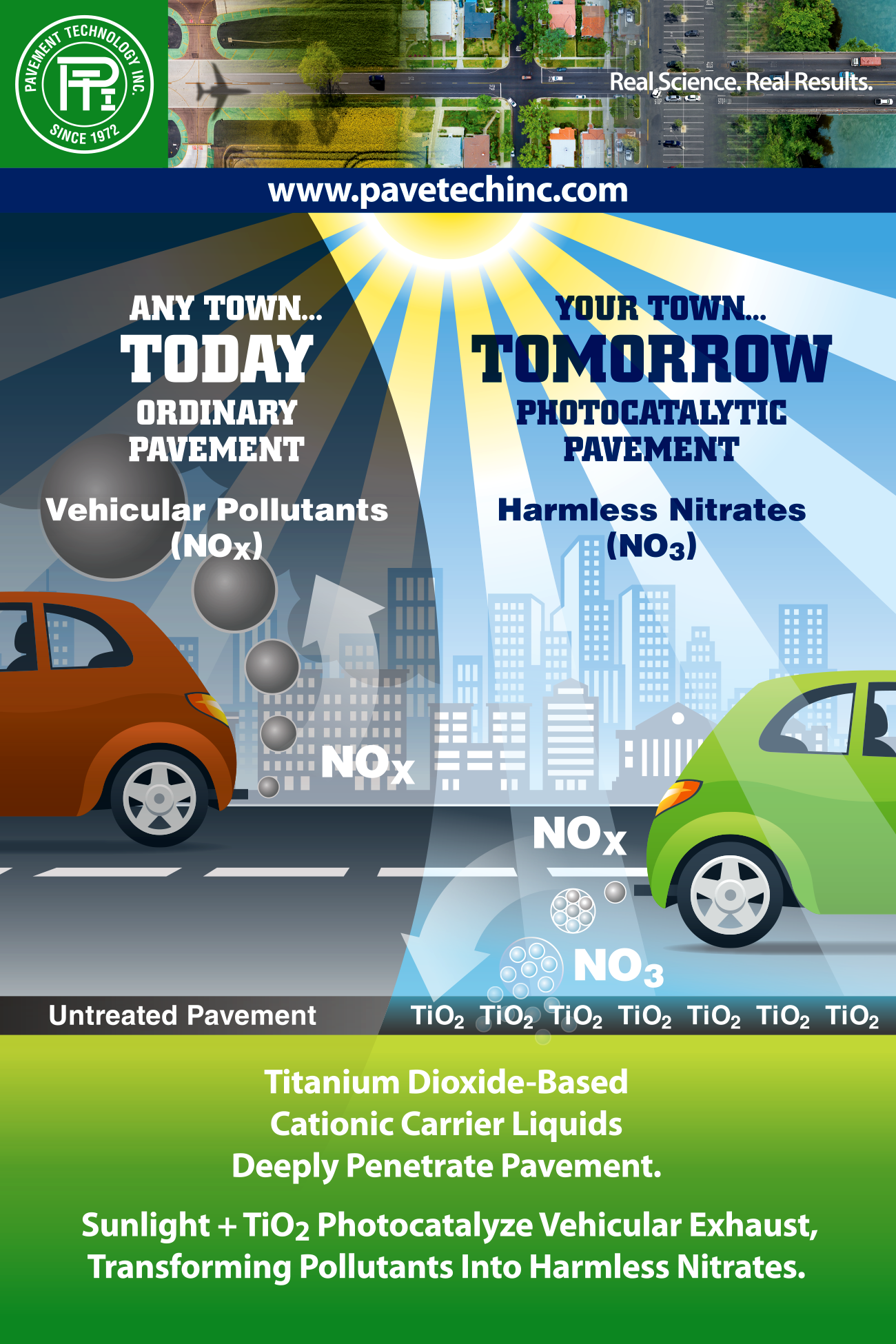 PROVEN: PCT-Treatment Reduces NOx1