Two PTI Technical Representatives honored by the Florida Chapter of the APWA
The Florida Chapter of the American Public Works Association (FLAPWA) recently honored two PTI technical representatives at its Annual Meeting and Exposition in Daytona Beach, FL.
Ken Carpenter, a 30+ year member of the PTI technical sales force, was awarded the prestigious Ben Pratt Award, which is given to members exhibiting exemplary long-term service to the Florida Chapter. The award was presented to him by Richard Howard, the legendary Service Director for the City of Orlando. Carpenter has been an active member of APWA for over 30 years, during which time he has served the Florida Chapter in various executive roles.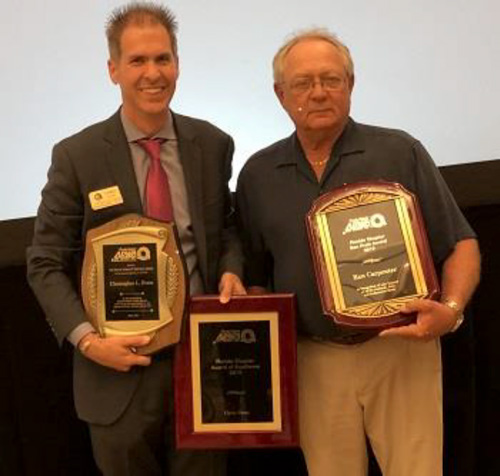 PTI technical representative Chris Evers was presented with the Award for Excellence, as well as with FLAPWA's Member of the Year Award, in part, for his role in providing relief services to Florida communities hit hardest by Hurricane Michael last fall. In his speech Evers reminded those in attendance of the Florida Chapter's commitment to public works, as exemplified by its motto: "First to Respond, Last to Leave." Evers is a former President of the Florida Chapter.
PTI was especially proud to see history repeat itself as Chris Evers was presented with the Member of the Year award, an honor which, 30 years earlier, had been bestowed upon PTI technical representative Ken Carpenter. PTI President, Colin Durante, reports: "These awards demonstrate PTI's long-standing support for the APWA in Florida. Our people participate in APWA chapters in most of the communities we serve because we share its commitment to promoting professional excellence through education, advocacy and the exchange of knowledge."